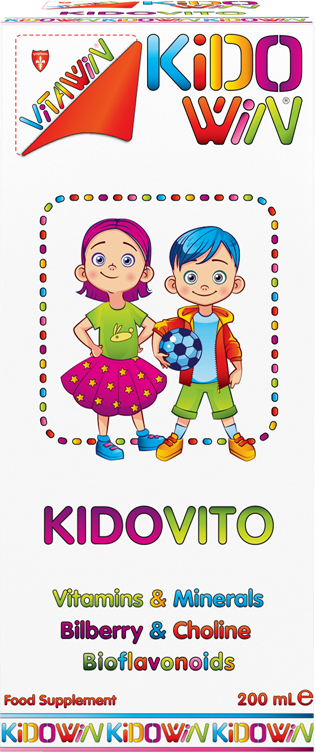 Kidowin Kidovito is a next-generation multivitamin and multimineral supplement for kids. Innovative formula of Kidowin Kidovito contains Choline, Citrus Bioflavanoids and Billberry for supporting children's overall health.

Vitamin D, Calcium, Iodine, Zinc, Magnesium, Manganese, Copper, Phosphorus and Vitamin K contribute to the maintenance of normal bones, muscle functions, connective tissue and the normal growth and development of bones in children.
Bitoin, Calcium, Copper, Iodine, Magnesium, Manganese, Phosphorus, Vitamins B1, B2, B3, B5, B6 and C contribute to normal energy-yielding metabolism; reduce tiredness and fatigue.
Vitamins B1, B2, B3, B5, B6, C, Biotin, Copper, Iodine, Magnesium and Zinc contribute to normal cognitive function and psychological functions.
Choline contributes to normal homocysteine and lipid metabolism and maintenance of normal liver function.
Free from colourants and sugar. Non-animal sources of Vitamin D.
Suggested Daily Intake:
Children 1 Year and older: Take 10 mL daily